Which chocolate tempering machine is right for you?
Temper batches between 500g and 7Kg
Table top tempering machine
Simple to use
Portable
Batch sizes between 10kg and 30kg
Speed control as standard
Ideal for upscaling your operations
Granite wheels and base
30kg to 60kg batch sizes
Heavy duty for continuous large-scale production
Ball Mill Refiners, Conches, Crackers & Winnowers all available
Automate your bean to bar process
Talk to our friendly team of chocolatiers
With over 30 years in the industry we can help you get the best machines or equipment, ingredients, chocolate moulds and packaging for your needs.
Consistent, perfectly tempered chocolate is the absolute requirement of any chocolate user
All our tempering units deliver perfectly tempered chocolate on demand with little or no operator skill.
The choice of machine is down to throughput requirements, optional functionality such as enrobing or automatic dosing into moulds, chocolate with inclusions etc. At Vantage House we are familiar with all these considerations and are happy to provide free advice based on 25 years of hands on experience with the tempering units we sell.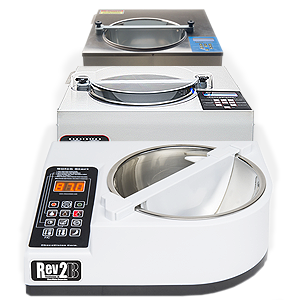 These small chocolate tempering machines can be great as home chocolate tempering machine as they are space-saving and easy-to-use. All the small chocolate tempering machines come pre-programmed to produce perfectly tempered plain, milk, white or ruby chocolate every time. With the exception of the very smallest model our chocolate tempering machines feature extended chocolate tempering which automatically maintains the fluidity of the tempered chocolate for up to 12 hours. Tempered chocolate that stays fluid for the whole of the working day is a world away from working with a bowl and a microwave. This is a wonderful feature freeing you upto to attend to customers, phone calls and all other areas of your business. All but the smallest chocolate tempering machines also feature the ability to add up to 26 of your own programs for any chocolate requiring an exceptional tempering cycle.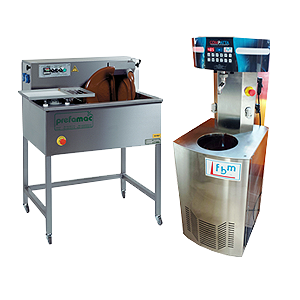 When sales start to outstrip production careful choices need to be made. In short the modern way is to move on to a Continuous temperer where perfectly tempered chocolate is delivered in a continuous stream. Our Chocolate tempering machines deliver continuously tempered chocolate from 10kg per hour upward. All models feature calibrated dosing for moulds and all but the smallest model offer optional fully featured enrobing as a removable add-on (which can be retrofitted later). For customers needing to work with inclusions in the chocolate then a traditional "wheel machine" is ideal. Semi-automatic tempering with capacities ranging from 15 to 80 kg have the ability to work with all types of inclusions and are easy to completely clean out ready for the next batch. Particularly relevant where the same machine has to be used for both white and dark chocolate.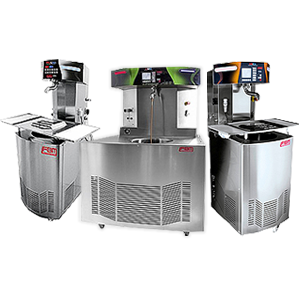 This is the area where robust reliable equipment is paramount. It is also the area where specialist applications are integrated with the tempering unit itself. With the FBM continuous tempering units supplying up to 400kg per hour there is very little that can't be achieved. These include large scale enrobing up to 600mm wide with decorating units and cooling tunnel applications, high speed dosing and mould transports with integrated cooling, automatic tray bake and baking tray coating etc. For large scale production we prefer to gain first-hand knowledge of your product and recommend pre-purchase trials of the type of equipment being considered. In all cases Vantage House can offer both extensive in-house expertise together with the accumulated knowledge of the companies we represent all of whom have supplied a vast range of installations worldwide.
Including Cracker & Winnowers, Pre-grinders, Wet Grinders & Conches. Our large-scale Bean to Bar Machines cater for every step of the process for even the largest of customers. These machines are built to a very high standard and can cope with large scale, continuous production every single day.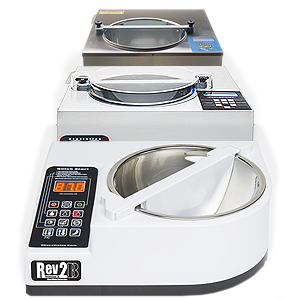 We offer both a rental and 'try before you buy' option on the ChocoVision Chocolate Tempering machines which includes a full refund of the rental fee should you purchase the machine at the end of the first week. Finance options are also available on orders over £1,000 working with our preferred partner Academy Leasing.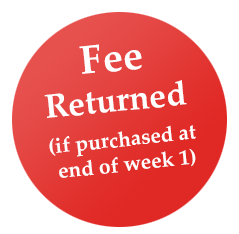 Start-up Businesses
Finance from
£
12
+ VAT per week
Medium Businesses
Finance from
£
28
+ VAT per week
Large Businesses
Finance from
£
74
+ VAT per week
Vantage House can help with your purchase through various payment options using Time Finance.
For an indication of deposit and monthly payment structure please click the Get a Quote button or phone our friendly team.
Please note other lenders are available.