Chocolate fridges designed for a brilliant performance, whether for your home hobby, start-up business, shop, or large business production. Our chocolate fridges can withstand the everyday challenges of your commercial kitchen. For over 60 years, the Everlasting brand has been one of the leading manufacturers producing refrigeration equipment that satisfies customers by enabling them to produce and store their amazing creations efficiently.
Each chocolate fridge is specifically made for the cooling and storage of chocolate. The advanced electronic control system in our chocolate fridges allows great control over the setting of both the temperature and the relative humidity. Place your chocolate masterpieces at temperatures between 10°/18°C and a maximum humidity of 40%-60%, these are the optimal conditions for the correct cooling and storage of your creations. By creating the perfect environment with a specialised chocolate fridge and well-tempered chocolate, you will avoid sugar or fat blooms on the surface of your product, ensuring the finest quality and taste.
What You Can Expect…
Humidity Controlled (between 40% – 60% RH)
Temperature range between +10° & +18°C
Choice of wire racks or metal shelves
Set AND store your creations!
Take a look at the links below to discover which of our chocolate fridges is right for you. Whether it is to fit into a small space at home or meet intensive demands and have a large capacity for your shop or factory, Vantage House will be able to help. Choose from chocolate fridges with solid stainless-steel doors, stainless-steel split doors or even glass doors to display your creations. Our chocolate fridges have between 5 and 40 shelves storage space.
140 litre capacity
Steel or glass door
up to 5 shelves or trays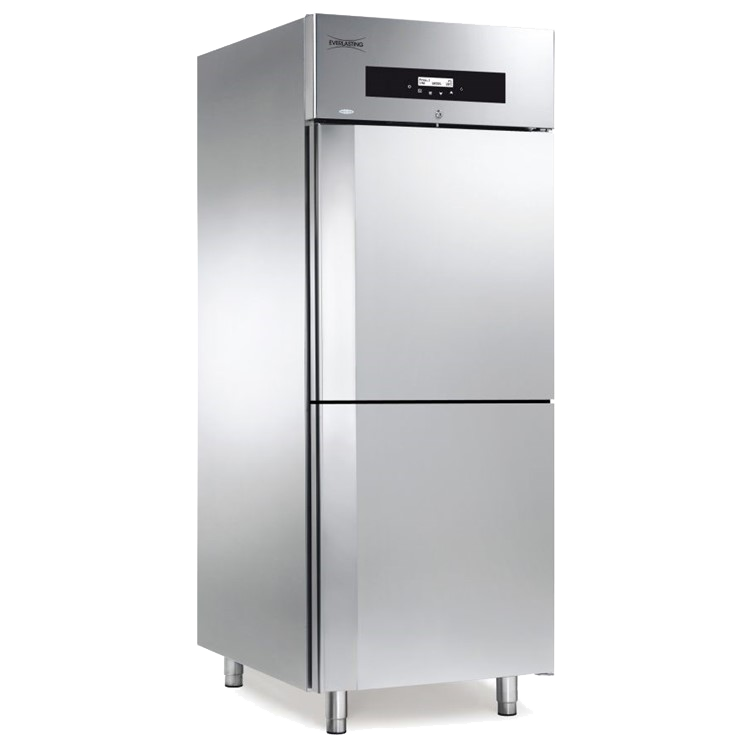 573 litre capacity
Steel, split front or glass door
up to 20 shelves or trays
 875 litre capacity
Steel, split front or glass door
up to 40 shelves or trays
Get superb results for consistent chocolate production with our chocolate fridges
Our chocolate chiller fridge range will give you that perfect finish to your confectionary and with the option to have chocolate display counter fridges you can really show your work off in style. The Everlasting chocolate fridge brand is a reliable brand that will exceed your expectations for performance. The chocolate fridge price starts from £2,239.20 for the compact range and for this you will receive a quality, high tech piece of equipment for your professional kitchen which will mean you can achieve the very best results
At Vantage House we are chocolatiers that are familiar with all the things you need to take into consideration for your big purchase and are happy to provide free advice based on over 30 years of hands-on experience.
Compact and efficient, our small chocolate fridges are perfect for the small business, home professional or even if you're a keen hobbyist wanting that perfect finish to your chocolate. With a low energy consumption, both of these fridges have 140 litre capacity, 5 wire shelves, an energy efficient LCD controller and you can choose between a self-closing stainless steel or a small chocolate display fridge with a glass door.
If you're needing a middle-ground option in terms of capacity, these medium-sized fridges offer 573 litres of storage and come with plenty of room to cool your confectionery and pastries with 20 wire shelves.
Peace of mind is offered in the form of the Everlasting environmentally friendly green refrigeration and insulation, along with the LCD controller to ensure the fridge stays energy efficient and kind to the planet.
You can decide on the functional option of having a solid or split door front, or if you want to double up on performance and as a showcase for your creations you can choose the chocolate display fridge with a glass door.
These large fridges offer you maximum storage capacity to keep all your produce in perfect condition.
Neatly store row upon row of glossy chocolates or buttery pastries lined up across the 40 wired shelves. Show off your creations in front-of-house with the glass door display fridge or enjoy the practicalities of either the split door fridge.
Made with high grace AISI 304 stainless steel throughout, you can be sure that you're receiving a hard-wearing product that's sturdy and built to last. The self-closing doors, key lock for security and excellent internal lighting are design features that will make every day use that little bit more seamless.
Start-up Businesses
Finance from
Medium Businesses
Finance from
Large Businesses
Finance from
Vantage House can help with your purchase through various payment options using Time Finance.
For an indication of deposit and monthly payment structure please click the Get a Quote button or phone our friendly team.
Please note other lenders are available.
Want to know more about chocolate machines?
Take a look at our vast selection of machines that will improve the quality of your production and the finish of your products. From an exquisite range of chocolate tempering machines to enrobing machines, stone grinders to machines that product patterns and designs on top of your confectionary.