Vantage House have been Chocolate World's UK and Ireland agents since 1988!
Chocolate World manufacture one of the world's largest ranges of off-the-shelf frame moulds – over 1500 unique designs, the possibilities are endless! They also manufacture a wide array of hollow figure moulds and even some silicone moulds.
In addition to their vast range of standard moulds Chocolate World offer the chance for you to create your own custom frame moulds with a unique shape/logo/design so you can completely personalise your product range. Fully exclusive and semi-exclusive options available! 
Shipping from Chocolate World is charged by weight and/or number of parcels. Standard shipping (approx. 7 working days from order) for one box up to 30kg (approx. 40 standard moulds) is £25.00 + VAT. Express shipping (approx. 2-3 working days from order) is available and can be quoted for at time of order.
Stock levels are very good from Chocolate World however we would advise giving our friendly team a call or email to check the moulds you are looking for are in stock at the time of your order.
Hans Brunner are one of the biggest and most experienced chocolate mould manufacturers in the world with over 85 years of experience in the industry! 
A complete range of professional chocolate moulds for both hand use and fully automated production lines; spinning moulds, one-shot moulds, frame moulds and hollow figure moulds all available!
As well as the standard off-the-shelf range they manufacture, Hans Brunner can also offer you the ability to create your own custom spinning moulds, one-shot shot moulds or frame moulds.
Shipping cost will be quoted at the time of your order (minimum charge £28.00 + VAT), delivery time approx. 7 working days from order.
UK Moulds (and small equipment)
A range of professional polycarbonate chocolate moulds, stocked here in the UK for fast delivery! 
Moulds for bars, pralines, spheres, Neapolitans and more are available. There is also a range of small equipment such as melting kettles and chocolate-making accessories. 
These moulds and/or equipment can be added to your ingredients and/or packaging order to take advantage of our great same-day dispatch, discount savings and free delivery order threshold offerings!
See a selection of Artisan Easter Egg Moulds here.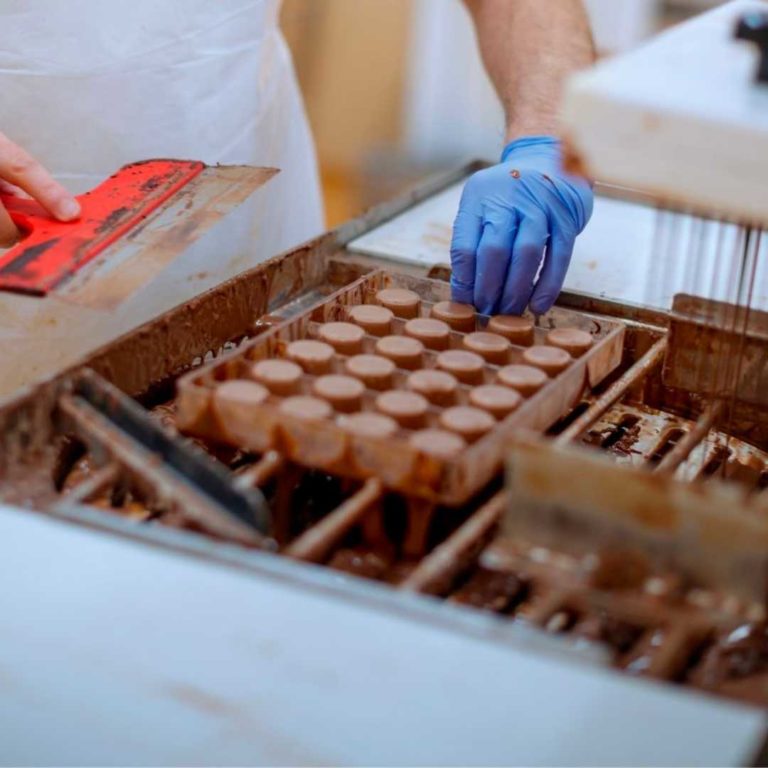 All the brands, shapes and materials that you could think of...
The look of your chocolates gives the first impression to your potential customers 
Chocolate moulds are used to make a large percentage of a chocolatier's catalogue, this includes chocolate bars, chocolate pralines (bite-sized chocolates of varying shapes), chocolate truffles, hollow chocolate figures such as Easter Eggs & Christmas figures as well as a whole host of other products.
Add moulds to your packaging and ingredients order to take advantage of same day dispatch, discount savings and delivery benefits.
Don't hesitate to contact our friendly team on 01273 777 002 if you want to know more!
Chocolate Moulds at Vantage House
Professional chocolate moulds are made from a high quality, food-grade Polycarbonate (sometimes called Makrolon). The Polycarbonate gives a perfect shine to your creations!
Vantage House supplies a large range of professional polycarbonate chocolate moulds including (but not limited to):
Frame moulds for bite-sized chocolates (pralines), bars & tablets, lollipops and many others, plus seasonal moulds for Valentine's, Easter, Christmas, Halloween.


Hollow figure (two-part) moulds for hollow, 3D figures such as Easter Eggs, Easter Bunnies, various animals, and a wide range of Christmas figures such Santa Claus, Angels and more.


Spinning moulds for large scale production including numerous different Easter eggs and figures, Halloween & Christmas figures, Valentine's hearts in addition to various animal figures and different sized truffle balls, plus many more.


One-shot moulds for filled pralines, truffle shells & bars, perfect for one-shot machines from Knobel & AWEMA.


Magnetic moulds for use with transfer sheets.
We also supply a large collection of food-safe, 3D, plastic display/decoration moulds in various shapes and sizes, plus a selection of silicone moulds for jellies, fondants, and other confectionery.
In addition to the great range of off-the-shelf moulds we offer, we are very happy to be able to offer our clients the facility to create their own custom, exclusive moulds by working with the factory and the customer every step of the way. Let your imagination run wild!
Other than our 'UK' mould range all mould orders are shipped directly from the factory to the customer, lead times/stock info available on request and will depend on stock levels at the factory. Prices on our website are exclusive of VAT and shipping unless stated otherwise.
If you would like any further information on the above or have any questions related to moulds, please contact our friendly team either on the phone 01273 777 002 or via email.