We stock a huge range of products from Callebaut including beautiful cocoa powders. We can supply you with exquisite Callebaut cocoa powder in wholesale quantities or smaller amounts to meet your needs. (Read More…)
Callebaut Cocoa Powder for desserts, drinks, dusting and more...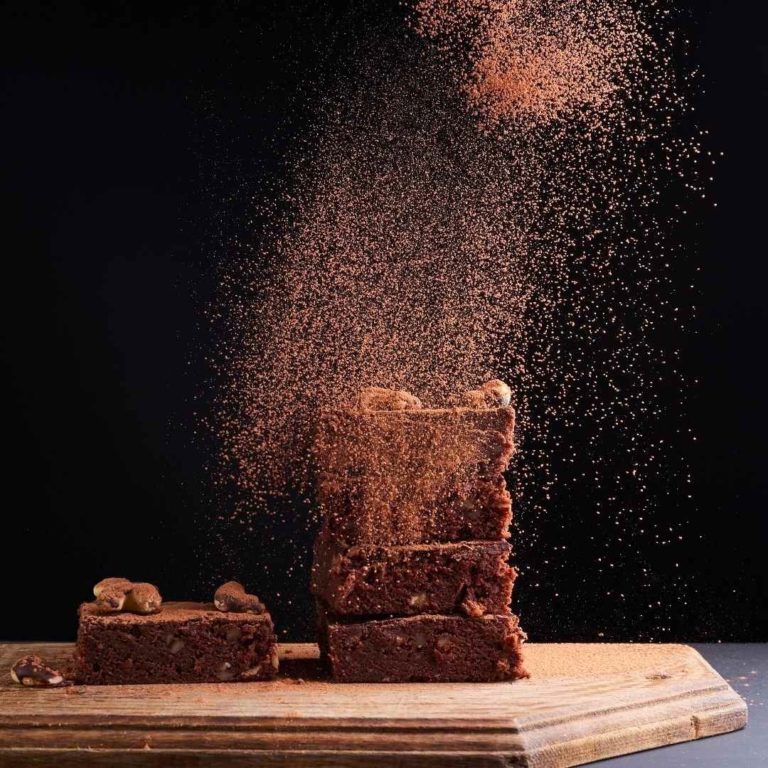 Use Callebaut cocoa powders for baking, rolling truffles in, decorating desserts and cakes, add to mousses, ice creams, ganaches and fillings to intensify the flavour, or even give you an intense and rich drink when mixed with milk.
Take at our selection, available at great wholesale prices with discounts and free delivery available for qualifying orders.
Callebaut Cocoa Powder at Vantage House
Callebaut is a powerhouse when it comes to all things chocolate and their cocoa powders are no exception to their reputation of fabulous quality.
At Vantage House we stock different types of Callebaut cocoa power including warm brown and medium brown. We stock 5kg quantities but we can also give you excellent wholesale prices for purchasing medium brown bulk cocoa powder in 25kg quantities and more.
This store cupboard staple product lends itself excellently to baking, dusting your chocolates, pastries or incorporating into gelato. There are countless possibilities for adding great taste, colour and texture to your work.
If you're looking for other cocoa products and chocolate related products, we can supply you with one of the widest ranges of chocolate products available along with tonnes of packaging options, equipment and the best customer service going too, of course!
So, don't hesitate to get in touch with us if there's anything you think we can help you with.
When buying Callebaut cocoa powder, you can be assured that you're getting the best quality as their powder is made from 100% pure cocoa, pressed from the same blend as their finest Belgian Chocolate.
Whether you're after warm brown or medium brown cocoa powder, both of these Callebaut cocoa powders have a wonderful, fine texture which means they can be folded into doughs with ease and stirred into liquids effortlessly.
If you're looking for something different to Callebaut cocoa powder, perhaps something darker or with a different flavour, then we have plenty more to choose from.
Browse through our cocoa powder selection to find the colour and taste of cocoa you're looking for including warm brown, medium brown, dark cocoa powder or even black cocoa powder – we have the perfect product for you!
We stock cocoa powder from high quality brands Cacao Barry and Van Houten. If you're looking to buy bulk cocoa powder our products are available at fantastic wholesale prices and in quantities ranging from 750g – 25kg to suit your needs.
Got questions about our selection of Callebaut cocoa powder?
Talk to our friendly team of chocolatiers
With over 30 years in the industry we can help you get the best machines or equipment, ingredients, chocolate moulds and packaging for your needs.
Looking for chocolate tempering equipment?
Consistent, perfectly tempered chocolate callets are the absolute requirement for any user of chocolate.
All our tempering units deliver perfectly tempered chocolate on demand with little or no operator skill.
The choice of machine is down to throughput requirements, optional functionality such as enrobing or automatic dosing into moulds, chocolate with inclusions etc. At Vantage House we are familiar with all these considerations and are happy to provide free advice based on 25 years of hands on experience with the tempering units we sell.
Start-up Businesses
Finance from
Medium Businesses
Finance from
Large Businesses
Finance from
Vantage House can help with your purchase through various payment options using Time Finance.
For an indication of deposit and monthly payment structure please click the Get a Quote button or phone our friendly team.
Please note other lenders are available.