How to Start a Chocolate business
We've got over 30 years experience in the industry and have helped so many customers through their start up process, so we thought we'd put together our best advice to get you started. Read on to find out how to start, what equipment you might need to invest in and other things you may not have thought about yet!
Top Tips for how to start a Chocolate Business
Practical Advice from the Experts at Vantage House
We know it can be daunting thinking about starting out or taking the next professional step forward, so here are some of the key things to consider when starting out. The first things to decide on above everything else are your 'what' and 'who'. What type of chocolate product, or products, do you want to make Who your potential customers are, as well as what/who your local competition will be. Plenty of market research and deciding on these things will help you figure out your pricing. Don't forget to seek advice from professionals in terms of any insurance, certifications and financial procedures that you'll need to get in place. We're the experts in all things chocolate and are here to give you the best practical information to starting up.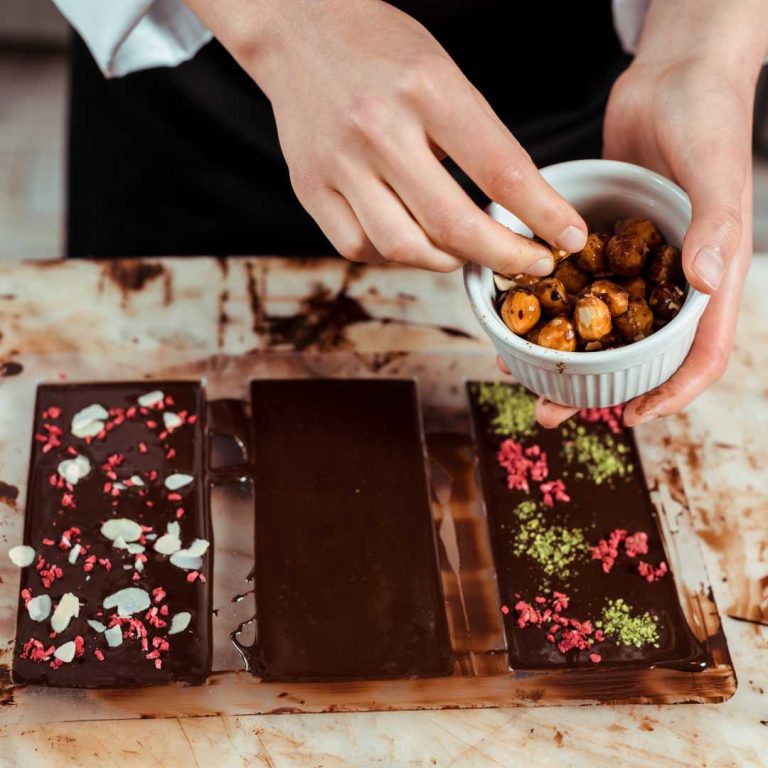 Deciding which products you are going to make is an essential part of your planning. Here are some ideas to get you thinking: 
Solid bars – the least time consuming and probably the easiest way to make money, however, you will need to be innovative with your flavours as there are so many on the market already.
Artisan products such as Bean to Bar or Origin chocolates
Moulded solid figures such as wedding favours
Filled pralines
Truffles
Hollow figures such as Shoes, Father Christmas and Easter Bunnies
Vegetarian or Vegan Products
Organic and/or Fair Trade (bear in mind you will need certification for these)
Where are you going to make and sell your chocolates?
Brace yourself, there are lots of questions coming your way, but it's important for you to work out the answers so that you can get into the practical planning.
How to start a chocolate business from home UK
Are you planning to start by working from home? Many companies have done this successfully to start off with, then, once their chocolate business is thriving, they've moved into larger premises. You'll need to make sure you have permission (from your landlord/ mortgage provider and local council) to run your business from home, as well as having insurance and hygiene certificates in place. There are some great articles here on the 
Food Standards Agency
website and 
GOV.UK
to help you get prepared as they list out all the things you might need to consider.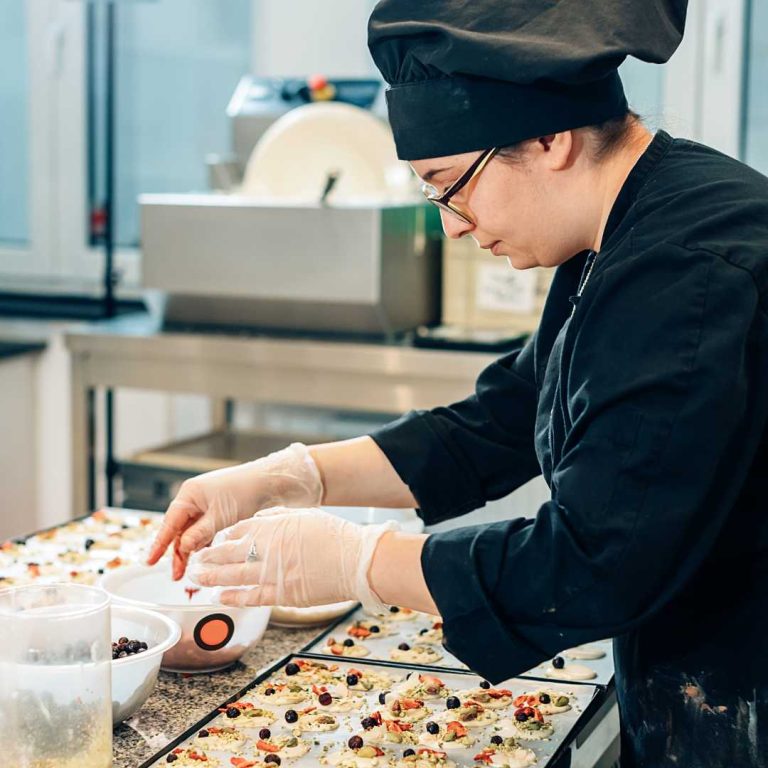 You may be considering opening a retail outlet, if so, you'd need to delve a bit deeper into the research here. Questions you'd need to ask yourself are: are there other chocolate shops in the area?  What is the footfall in the area?  Who is your target market?
If you're considering selling online, you will need a good website offering your customers a great shopping experience that looks professional and is easy to use.  You will need to be able to keep up with the orders offering a realistic lead time and produce goods that will travel well. Don't forget, you will need suitable packaging to protect your delicious chocolate whilst it's travelling and it's also important to think about environmental sustainability.
Are you starting on your own or will you need staff? For example, if you are going to be working from retail premises you will need someone making the products and someone else selling them.
Are you considering selling at Farmers Markets?  It's a really good way to 'test the water' and see how popular your product might be, but just remember you are at the mercy of the weather. The winter brings cold, rain and wind meaning you will not have as many customers coming out and in the summer you have the different struggles of heat and sun to deal with, which are not ideal conditions for chocolate!
If you decide farmers markets are the right route for you to go down, think about the best ways you can prepare your business for the weather. For example, you might want to think about investing in a sturdy structure that can protect you from the elements in the winter, and cool boxes big enough to store or even to display your creations in whilst it's hot.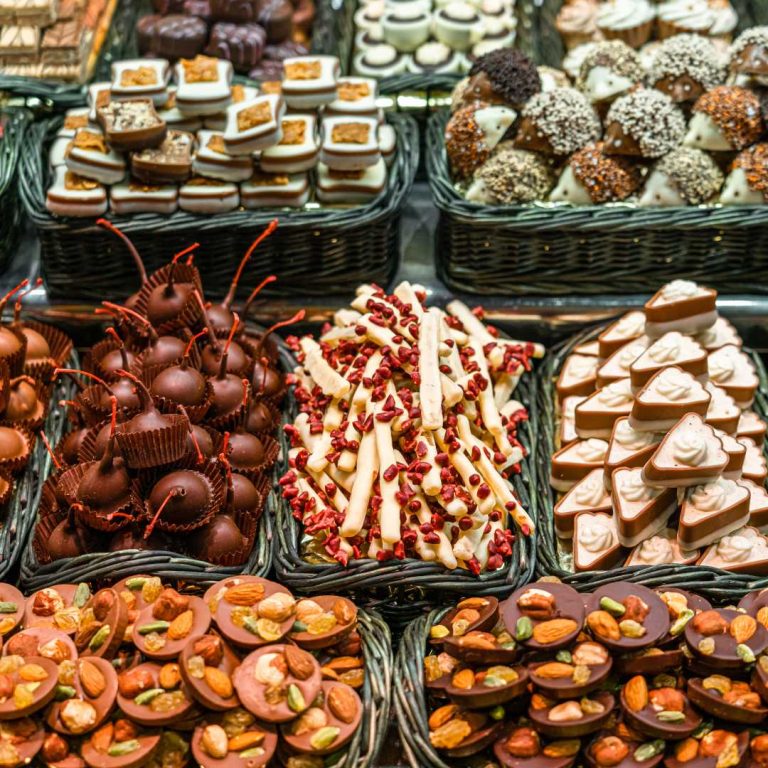 When you've settled on where you're selling, you can decide how much you're going to need to make. For example, would you like to produce 10 kilos per week or 10 kilos per day? Knowing this will help determine quantities of ingredients, what equipment you will need to buy and how many moulds (if you are going to use them) will be enough to make the business cost-effective.
Give us a call if you want to chat about how much chocolate you might need for what you're hoping to produce. 01273  777 002 we're just here to help and won't push you into buying.
Once you have decided what you are selling, how much you plan to produce and where you're selling it, you can get to the exciting bit of choosing your equipment! Make sure to take into consideration how much space you have available as equipment can come in different shapes and sizes.
The most important piece of equipment you will have to buy for your chocolate business.
You need to decide if you would like to work from a batch of chocolate that is tempered (a batch temperer) or if you need a constant flow of chocolate at the correct temperature (a continuous tempering machine). Machines range from ones that can temper 650 grams of chocolate per batch to those that temper 100 kilos and more per hour. It might seem like there is an overwhelming amount of information available. Give us a call and let us help you find the right machine for your business with absolutely no obligation. Call us on 01273 777 002.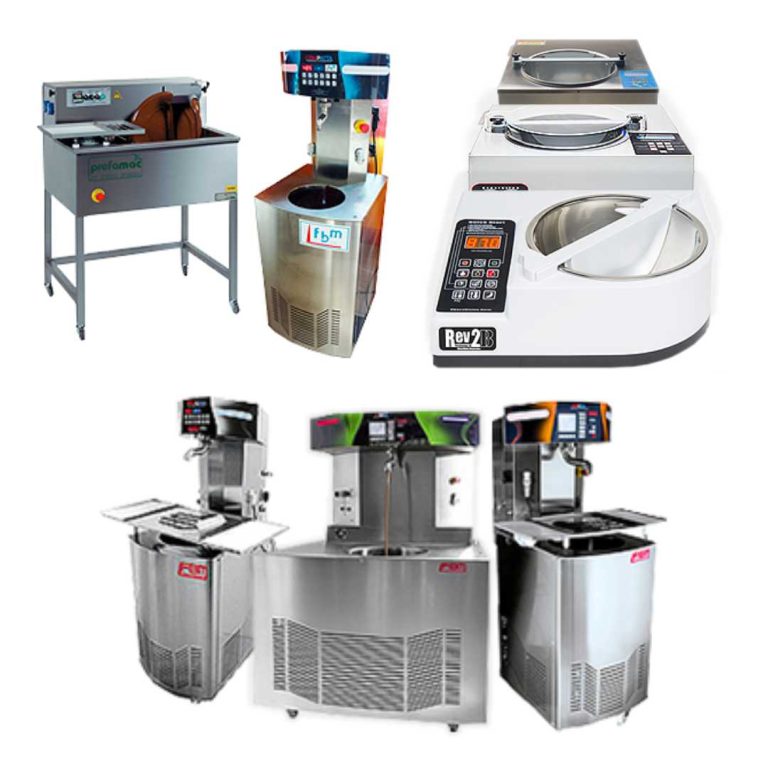 Adding a 
chocolate fridge
 to your professional kitchen will cut down on setting times and therefore speed up your production. Many people think that chocolate should be left to set in ambient temperatures but this is not the case and would risk the quality of your chocolate. To create the most perfect shiny chocolate, you need to remove any residual heat from it as quickly as possible to avoid bloom
*
. This is why a humidity controlled chocolate fridge is an invaluable bit of kit as it allows for the ideal setting temperatures with the benefit of speeding up your processes.
* Bloom is when white or grey streaks, or cloud-like shapes, appear on the surface of the chocolate.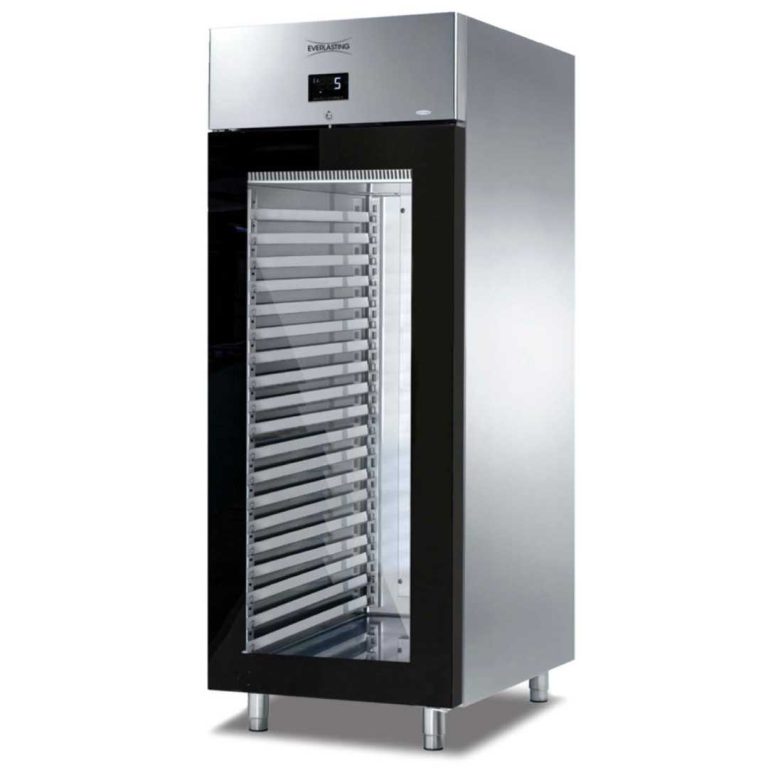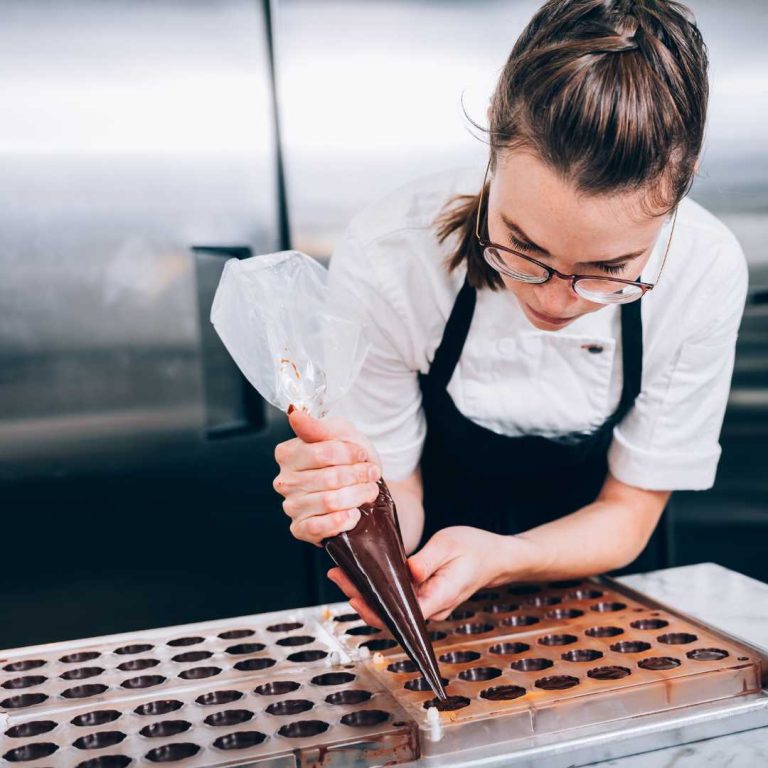 Chocolate Moulds for your Chocolate Business
If you decide to produce moulded products such as bars, figures and shapes, pralines or hollow figures, you will of course need moulds. The number of moulds you use for each shape or figure is an important decision. We suggest having a minimum of four to six moulds of each shape to make it cost effective. There are hundreds of shapes and sizes available, so you need to consider carefully what will match your style or any theme's you're exploring. For example, if you live by the coast and are selling around that area, seaside themes might be something worth exploring. We have a huge range to choose from, including big chocolate mould brands 
Chocolate World
 and 
Hans Brunner
. If you feel a little confused about what you might want, don't hesitate to get in touch with us for some advice.
When you know what you're making, we can advise you on the best accessories that you'll need to create the finest chocolates. You will need items such as dipping forks, pallet knives, spatulas, thermometers, bowls and scrapers. You can shop our range by clicking on the button below.
If you want more advice on this, of course you can just give us a call on 01273  777 002 and we'll walk you through what everything does and make sure you're not wasting money buying things that you won't need.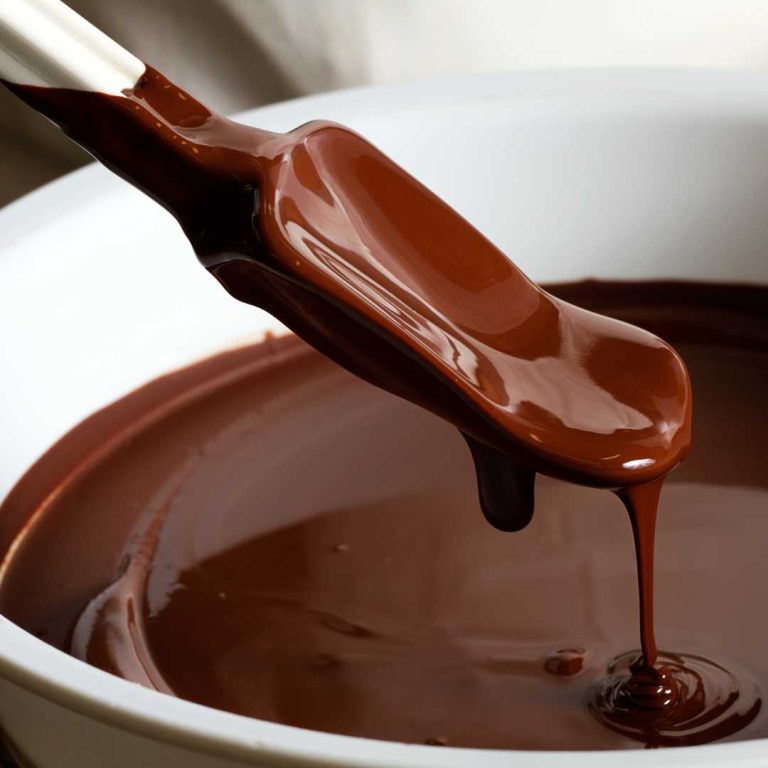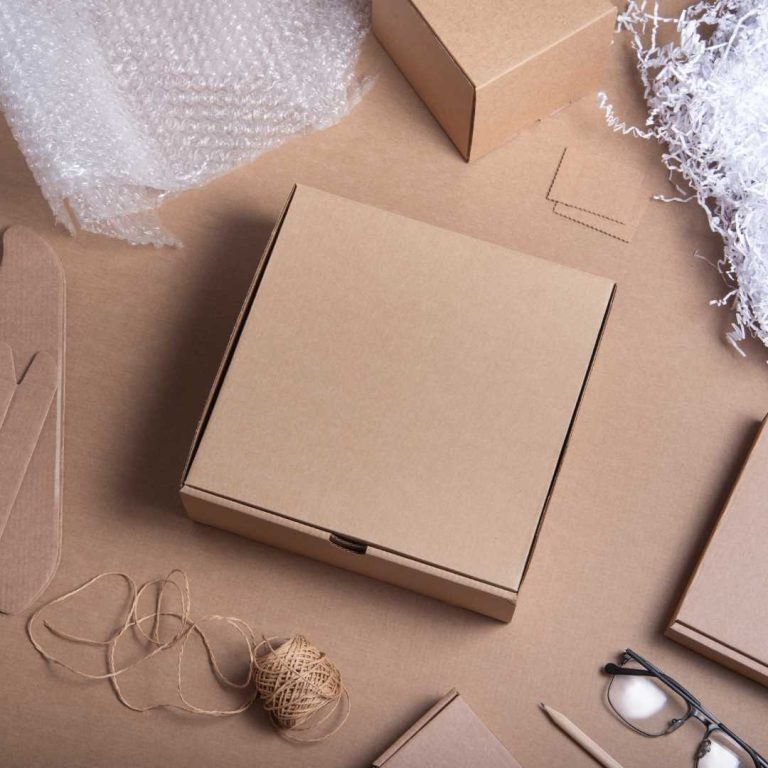 Now that you've worked out how much you'll be making, you'll have an idea of how much space you will need to store your confections. Your chocolate will need to be stored in cool and dry conditions, so make sure you have enough dedicated space to store your chocolates, away from anything that might spoil your chocolates and a place that meets food hygiene standards.
Once you have produced your chocolates you will need a way to package them so that they can be sold. If they are pralines/truffles or other small items this could be ballotins or boxes for a certain amount of chocolates, or for bars and other larger items you could use choc bar cartons and/or bags. 
If you're shipping out your items to your customers then you will also need postal boxes and secure packaging that will ensure they arrive in perfect condition.
If you have any questions about starting a chocolate business, just get in touch!
Talk to our friendly team of chocolatiers
With over 30 years in the industry we can help you get the best machines or equipment, ingredients, chocolate moulds and packaging for your needs.
Start-up Businesses
Finance from
Medium Businesses
Finance from
Large Businesses
Finance from
Vantage House can help with your purchase through various payment options using Time Finance.
For an indication of deposit and monthly payment structure please click the Get a Quote button or phone our friendly team.
Please note other lenders are available.