Wholesale Chocolate Suppliers
If you're looking for a reputable wholesale chocolate suppliers, then the search is over! We supply excellent quality chocolate, a brilliant range of brands for you to choose from at excellent prices. We offer next day delivery and discount opportunities for orders over a certain quantity and we're always here to help you if you have any questions about our products or need a little advice. (Read More…)
Your wholesale chocolate suppliers
Vantage House can offer you Couverture Chocolate in plain, milk, white, pink, caramel and coloured & flavoured in callet (button) form or, with some ranges, block form. We are one of the largest chocolate suppliers in the UK and Ireland bringing you a large range of chocolate couverture and other chocolate products at very competitive prices.
From dark chocolate to flavoured and in every shade in between, we supply the full range of Callebaut products together Schokinag, Veliche, CasaLuker, Carma, Vanova, Stewart and Arnold (British Chocolate) and Moo Free as a non-dairy alternative. In general, the bigger the bag the less the cost per kilo and bags can range from 400g to 25kg.
In addition to our huge selection of couverture chocolate, we have bake stable chocolate pieces For the Baker looking for wholesale chocolate suppliers, in 25kg bags from as little as £4.55 per kilo and dark chocolate sticks for those all-important Pain au Chocolat!
Vantage House also offers a discount structure for our larger wholesale customers, 5% discount on
orders over £500 (ex. VAT) and 7.5% discount on orders over £1000 (ex. VAT). Shipping is free for all orders over £150 (ex. VAT).
So, if you are looking for a wholesale chocolate supplier, we are here to help you
Talk to our friendly team of chocolatiers
With over 30 years in the industry we can help you get the best machines or equipment, ingredients, chocolate moulds and packaging for your needs.
Wholesale Chocolate Suppliers of Milk Chocolate
Whether you're in the market for a 'dark milk' or perhaps even vegan chocolate, choose from a vast range of couverture chocolates with different flavour profiles.
We can supply you with a huge range of milk chocolate from your favourite brands such as Callebaut, Cacao Barry and CasaLuker as well as other chocolate makers, Lubeca, Veliche, Carma, Schokinag, Stewart & Arnold, Moo Free.
If you're looking for some inspiration to freshen up your chocolate collections, hop over to Callebaut's website for some incredible recipe ideas.
Wholesale Chocolate Suppliers of Dark Chocolate
Find a new favourite brand with exquisite chocolate callets from Schokinag or British makers Stewart & Arnold or shop from the ever-favourite big brands of Callebaut or CasaLuker for a huge selection of dark couverture chocolate.
Find that perfect chocolate for whatever you're making, whether it's a praline filling, tempered chocolate delights or even flavouring desserts and patisserie.
Wholesale Chocolate Suppliers of White Chocolate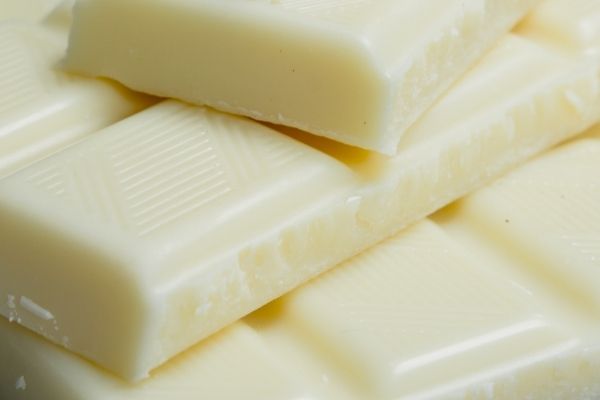 We supply an excellent range of different white couverture chocolates for tempering into the perfect confectionary or pouring into chocolate moulds.
Whether you're looking for something sweet and deliciously smooth or white chocolate with high cocoa butter content or maybe a slightly less sweet white chocolate, we've got what you're after.
Wholesale Chocolate Suppliers of Ruby Chocolate
Ruby is known as the 'fourth type of chocolate' with a naturally occurring pink colour and unique flavour of red berries and sour notes. Whether you want to try working with ruby chocolate at home or need a wholesale provider of ruby chocolate, we can supply what you need to make your stunningly pink coloured creations.
Ruby chocolate is not only great to work with for confectionery but also for pastries and desserts too. Let your creativity be sparked by its unique flavour and use it for anything from moulding or enrobing to delicate mousses.
Wholesale Chocolate Suppliers of Coloured & Flavoured Chocolate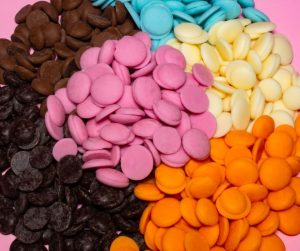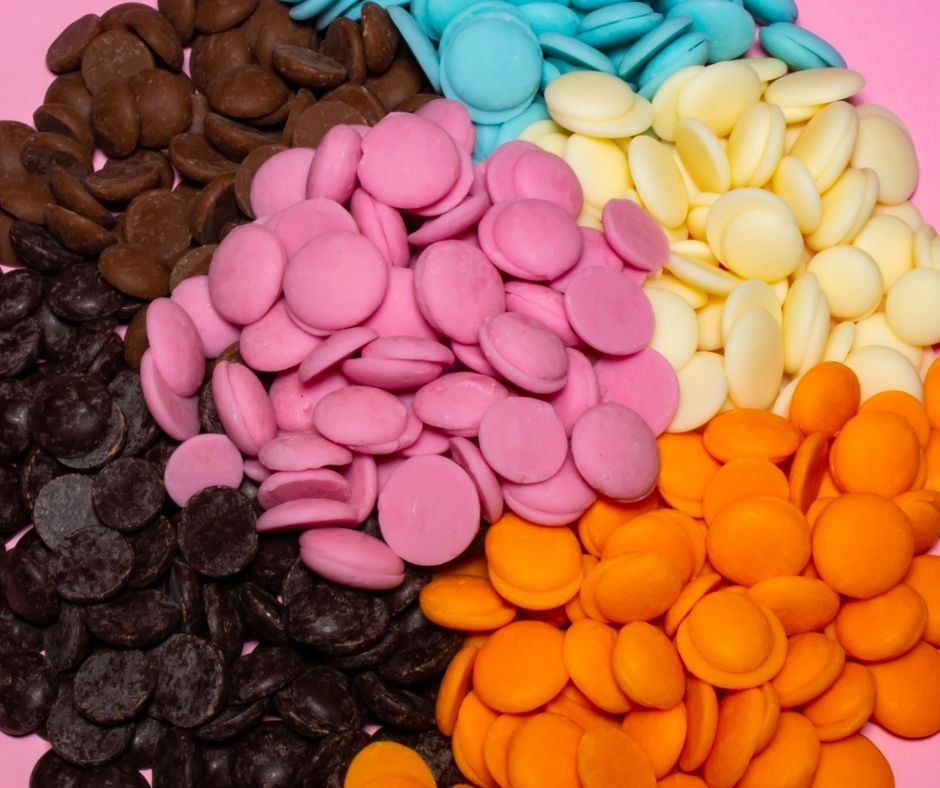 Our coloured and flavoured chocolate range has endless possibilities when it comes to creativity! The callets melt, temper and cool in the same way that white chocolate does and can add an extra colour pop and flavour to your work.
With lime, honey, orange, caramel, cappuccino or strawberry flavours to tempt you as well as increasingly popular gold chocolate, what will you make next?