We're not talking about the bog standard sugary chocolate drink you can pick up in the supermarket, we only stock the real deal. Shop with us for delicious, luxurious, opulent hot chocolate powders that will give you that warming hug in a mug and put a smile on customers faces. (Read More…)
Delicious hot chocolate powder for the ultimate comfort drink
There's nothing like coming in from the cold, wrapping up in a blanket and warming up with a steaming mug full of the most delicious hot chocolate. This comforting drink is a wonderful treat and can be made to be your own unique drink by serving it in a quirky mug or adding toppings and different flavours.   
Take at our selection, available at great wholesale prices with discounts and free delivery available for qualifying orders.
Hot Chocolate Powder at Vantage House
Nothing beats the taste of hot chocolate! Our range of hot chocolate powders from Callebaut cannot fail to deliver on superb quality and satisfy all tastes. Whether it is a deep, dark chocolate you're craving or something a little different from Ruby hot chocolate powder which gives you the fruity, fresh and sour notes of this exciting new fourth chocolate variety… we've got all you need at excellent wholesale prices!
We also have a 100% natural and organic hot chocolate powder that is from Van Houten – single origin Santo Domingo from the Dominican Republic will give you an intense taste of cocoa finished with a hint of vanilla.
The dark or white ground hot chocolate powders made from the finest Belgian chocolate and supplied with a dosing spoon for obtaining the perfect blend of indulgent deliciousness.
If you're looking for other chocolates and chocolate related products, we can supply you with one of the widest ranges of different chocolate products available, along with the best customer service going too, of course. So, don't hesitate to get in touch with us if there's anything you think we can help you with.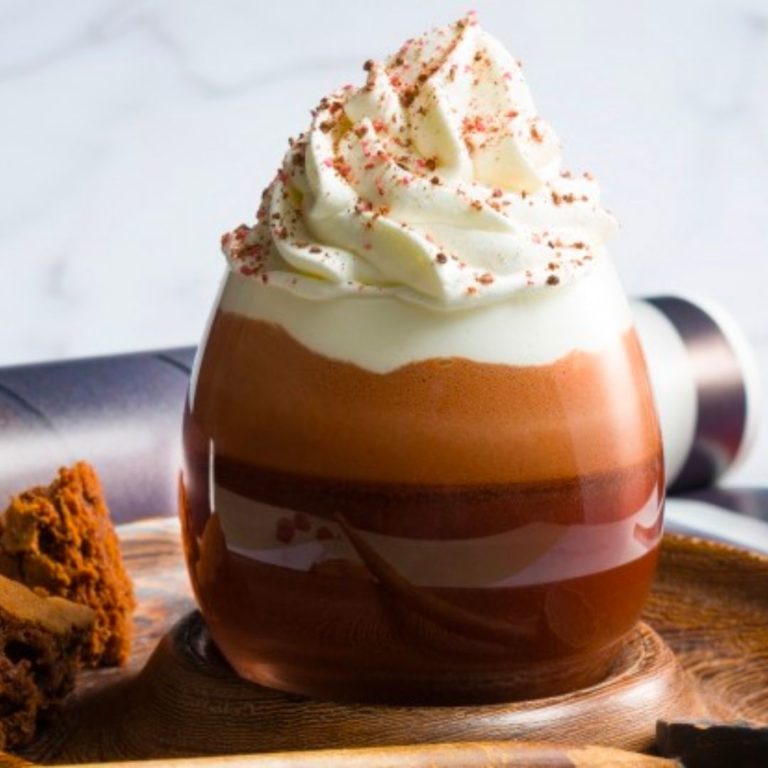 Our range of hot chocolate powders creates the most indulgent, delicious hot drinks or can also be used in desserts and cakes, added to mousses, ice creams, ganaches and fillings to intensify the flavour.
Take a look below to find your perfect hot chocolate in dark, milk, white or even ruby.
Looking for inspiration?
Callebaut have wonderful recipes to create different drinks with their hot chocolate powder. Why not hop over to their website and take a look? For example, use their white hot chocolate powder along with beetroot juice to create a stunning Pretty in Pink drink, or dark chocolate powder for this layered treat (pictured) of coffee and chocolate called Sailing Off.