Create luxury and opulence with gold chocolate
Add variety to your chocolate offerings with this beautifully smooth, golden colour, caramel tasting chocolate. This beautiful chocolate is expertly crafted from an exquisite selection of ingredients of caramelised sugar and caramelised milk.
This luxurious chocolate can be used in most applications, for creating beautiful confectionery, exciting patisserie and even incorporated into your baking.
This sumptuous chocolate in our coloured and flavoured range of chocolates, has rich notes of toffee, butter, cream and a dash of salt which enhances the delicious caramel flavours. With a pale amber colour you can use this chocolate in almost any application you can think of to add luxurious flavour and golden hue to your creations.
Along with our range of white, dark and  we also stock the finest gold chocolate from the biggest name in the business, Callebaut, as well as the Swiss chocolatier, Carma.
Callebaut Gold Chocolate is an exciting taste sensation. Blended from cocoa beans from three different countries – Ecuador, Ghana and Ivory Coast it is light amber in colour and has rich flavour notes of butter, cream and toffee with a stimulating pinch of salt.
If you're looking to elevate your gold chocolate creations by combining the chocolate with other flavours, the recommended flavour pairings are: vanilla, tonka bean, apple, orange. pineapple, cherry, apricot, dates, lemon, almond, matcha tea, coffee, dark chocolate and popcorn.
If you want some extra inspiration to use Callebaut's Gold Chocolate, they have some excellent recipes and ideas to sift through. Whether you want to try your hand using this chocolate in a ganache, for moulded pralines or a gold chocolate Bavarois – click here to go to Callebaut's website, download their gold chocolate recipe booklet and get your creativity cogs turning!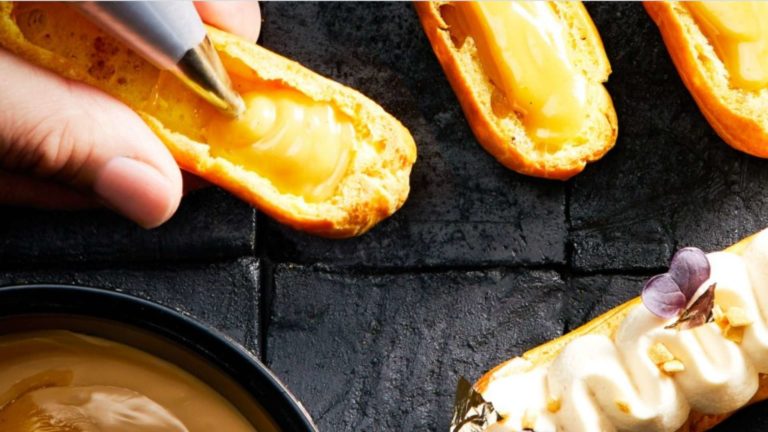 Choose from a delicious selection of products to add to your gold chocolate offering.
Create a sumptuously smooth gold gelato with Callebaut's ChocoGelato base mix, fill patisserie with Crema Gold or use MonaLisa's Crispearls to decorate chocolates or use as an inclusion with a bit of a crunch. Click here to visit the Callebaut website and see their mouth watering recipe for gold chocolate eclairs
Carma Gold Quintin couverture chocolate provides a delicious harmony of intense caramel and warm milkiness, made all the more indulgent by its beautiful golden colour, created using caramelised milk (no added caramel). It also has a beautiful and natural warm golden colour
Got questions about any of our gold chocolate?
Talk to our friendly team of chocolatiers
With over 30 years in the industry we can help you get the best machines or equipment, ingredients, chocolate moulds and packaging for your needs.
Looking for chocolate tempering equipment?
Consistent, perfectly tempered chocolate is the absolute requirement for any user of couverture chocolate.
All our tempering units deliver perfectly tempered chocolate on demand with little or no operator skill.
The choice of machine is down to throughput requirements, optional functionality such as enrobing or automatic dosing into moulds, chocolate with inclusions etc. At Vantage House we are familiar with all these considerations and are happy to provide free advice based on 25 years of hands on experience with the tempering units we sell.
Start-up Businesses
Finance from
Medium Businesses
Finance from
Large Businesses
Finance from
Vantage House can help with your purchase through various payment options using Time Finance.
For an indication of deposit and monthly payment structure please click the Get a Quote button or phone our friendly team.
Please note other lenders are available.