Used Machinery at Vantage House
If you are looking for a machine, then you might just be able to grab yourself a bargain with our used machinery listed below. If you don't see what you're looking for, simply email us with your requirements via the "contact us" button below and we can add you to our mailing list when we have items that might interest you.
The used machinery at Vantage House is offered with between 3 months and 12 months warranty. Please check each listing to clarify this.
There is always the option of hiring the machine if you are in a hurry to increase production but a used version of the machine is not currently on our listings. Learn more about hiring our machines here.
Want to list your used machinery with us?
We offer a service where we will advertise your used machinery on your behalf subject to a condition check and the machinery being supported by our service department. It must be a manufacturer that we deal with or be originally supplied by Vantage House.
If you have a machine that we have supplied and are looking to upgrade, renew or simply move on we can sell this for you on this section. If you would like us to consider your product please call us on 01273 777 002.
12 MONTH WARRANTY INCLUDED
ChocoVision Revolation V-E
ChocoVision – Revolation V-E – 4kg Automatic Chocolate Tempering Machine – (240v) 
Compact stainless steel tempering machine; processing between 0.5 and 2.3kg (4kg with holey baffle) of chocolate per batch. This unit possesses the same state-of-the-art design and microprocessor technology as the Revolation Delta-tempering and holding chocolate to within 2/10th of a degree to ensure the best chocolate quality and appearance.
The Revolation V-E has the ability to produce about 23kg of tempered chocolate per day with very little maintenance.
12 month warranty
1 bowl
1 baffle
1 holey baffle
1 instruction manual
1 dipping tool
3 pack of scrapers
1 baffle brush
Set of knobs
1 lid
Dimensions: 394mm W x 394mm D x 165mm H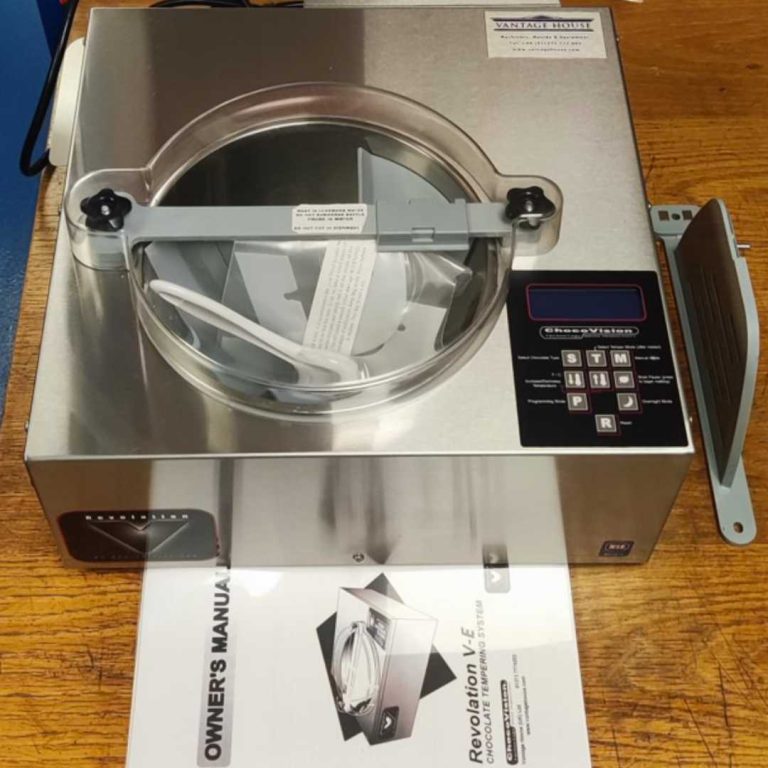 6 MONTH WARRANTY INCLUDED
ChocoVision Revolation Delta
ChocoVision – Revolation Delta – 7kg Automatic Chocolate Tempering Machine – (240v) 
The Revolation Delta is ChocoVision's most sophisticated breakthrough for tempering chocolate, created to the specifications of the world's most demanding pastry chefs and confectioners. It features all the capabilities of our Revolation X3210, with an advanced software system and display. The Revolation Delta melts and tempers a minimum of 1.35kg and a maximum of 4.5 (7kg.of chocolate with holey baffle) and can hold temper for over 15 hours. The Revolation Delta is ideal for artisan chocolate makers, whether at home or in a laboratory environment.
1 bowl
1 solid baffle
1 holey baffle
instruction manual
3 pack of scrapers
1 baffle brush
Set of knobs
1 cover
Dimensions: 465mm x 465mm x 178mm

880W (220V 50Hz 7 Amps)
ChocoVision - Revolation 2B
Ideal for amateur and professional chocolatiers, the Revolation 2B is a conventional space-efficient tabletop tempering machine that melts, tempers, sets, and holds up to 900gms of chocolate to 2/10 of a degree.
Features:
Fully automatic microprocessor using forced hot air
680g capacity
Manual Temperature Adjustment (up to 49°C during the Melt Cycle, 38°C in Temper Mode)
Overnight (standby) Mode
Removable bowl and baffle
LED temperature display
Bowl Pause
6 months Parts & Labour Warranty
318mm W x 267mm D x 133mm H
Includes:
1 bowl
1 standard baffle
1 cover
instruction manual
3 pack of scrapers
1 dipping tool

1 baffle brush
£445 + VAT and Shipping
Includes 12 month warranty!
More pictures available upon request.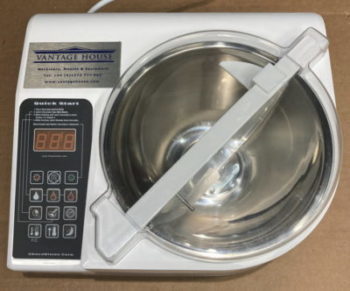 12 beautiful individual hand-crafted Art Nouveau angel chocolate moulds. Each mould has been individually hand-made by master craft people in Chocolate World, Antwerp and they have the detail of features, hair and wings.
The moulds hold 18 chocolates and there are 25 moulds per angel. This product is ready for immediate production and holds an EU Community Trade Mark in Retail and Food Services.
Click here to visit their website and learn more.

They are 275mm x 135mm.
18 cavities each mould, 12 individual designs
20+ trays of each design
Total trays: 240+
€7,000 + VAT + Shipping (located in the Republic of Ireland) 
ChocoMa 5B18 Console Enrober
Complete with paper take-off system, receiving table and with a heated-thermostatic controlled base and an additional chocolate storage container.

Easy cleaning is again a design feature. Receiving table is 1 metre long. Variable speed blower, de-tailer, vibrator, single curtain veil-box.  Chocolate is supplied to the veil-box by a wheel system.

Heated console can be thermostatically controlled,  this is ideal for melting down extra chocolate. This machine is designed for the total or partial coating of chocolates with chocolate, compound or yoghurt coatings.
More pictures available upon request.
FBM Proxima Tempering Machine (3-phase)
2016 Model – FBM Proxima continuous chocolate tempering machine, 25kg bowl (100kg/hour throughput).
STANDARD FEATURES:
Removable, heated vibrating table
Night cycle
Reversible tempering auger
Pedal-operated electronic depositor with user-selectable time and repetitions
Swivelling casters
Voltage: 380V 3-phase
Dimensions: 510(w) x 810(d) x 1530(h)mm 
More pictures available upon request.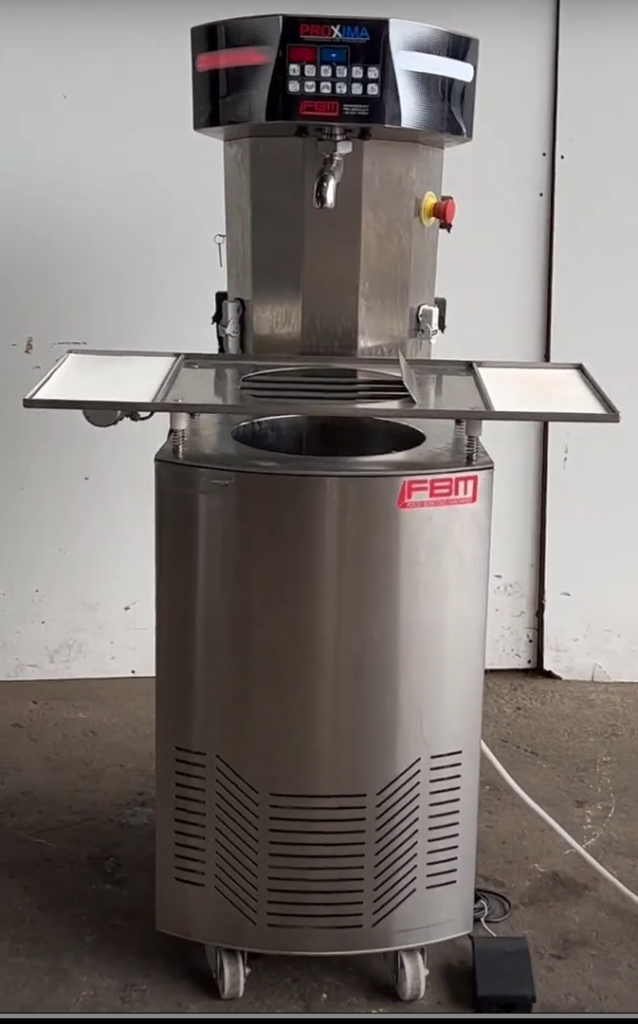 Savage Bros - Portable Agitator
Two 1801-80 Portable Agitators with only a few hours use. These mixers will fit the 50 x 29cm Kettles and feature the 1801-10 standard mixing assemblies. There is also an additional mixing assembly available.
1801-80 Portable Agitators £3,395 + shipping & VAT each (2022 – New Price £4,757.00)
1801-10 Agitator Assembly £899.00 + Shipping & VAT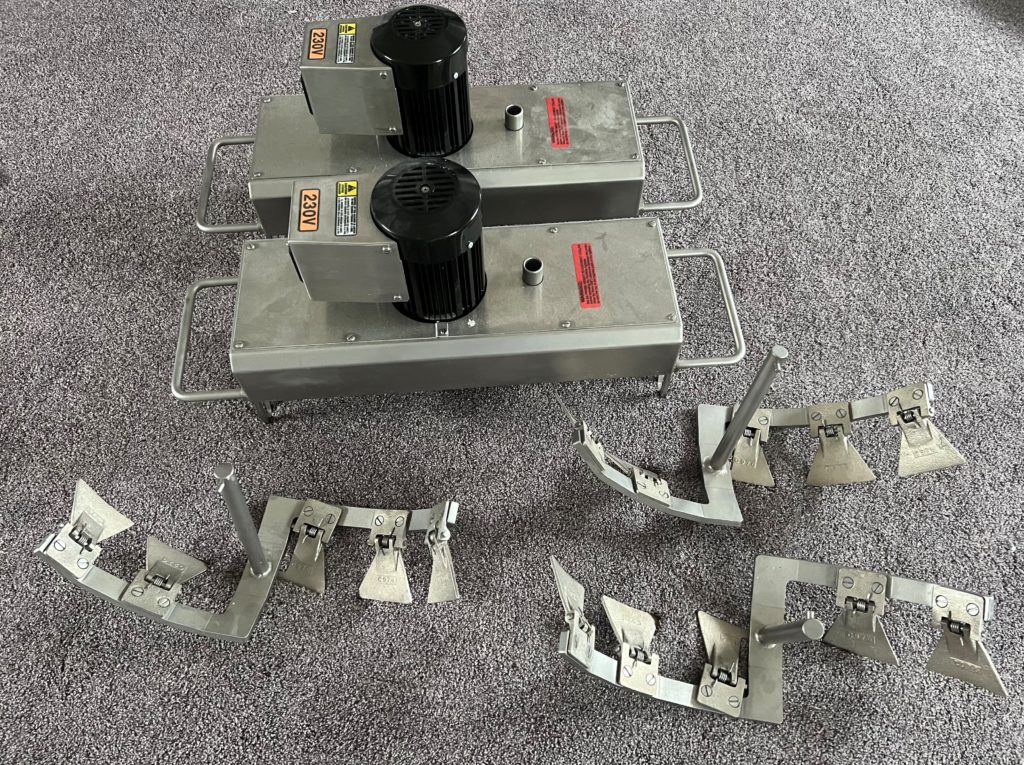 Prefamac - SNIPPER, Flaking Machine
Excellent Condition Complete With 5kg Block Mould
Features:
A compact bench-top Flaking Machine
13-30 minutes for a 5kg Block
Takes 2.5kg and 5kg Blocks of Chocolate
£3,200 + Shipping (No VAT)
More pictures available upon request.